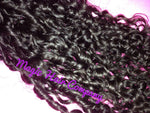 Look for a Silk Closure for Your Extensions
If you have wondered just how so many actresses, models and celebrities always seem to have the best-looking hair with a long flowing style or beautiful curls, the secret they may not be telling is that they are making extensive use of the different weaves and hair extensions available today. There are so many different options available today that you can get something that matches your hair perfectly and can provide you with the extra length or body that you want for your hair. When you are looking at the different products available, we always advise clients and customers to look for a silk closure to get the best look possible.
Why You Want Closures
Closures are an important part of styling any time you are using a weave or hair extensions. Previously with extensions and weaves, there was a long process that you had to undergo in order to get the most natural look for your hair while the tracks of the extension or weave were covered to hide any seams. Your natural hair would have to be blended with the weave or extension and the process could take a while, often involved the use constant heat (which raises the risk of hair damage being caused) and is not always 100% efficient. With the use of a closure – which is a small piece used to cover the front portion of the hair where your natural hair might normally me placed – getting extensions or a weave is much easier and looks better.
Choosing Silk over Lace
There are generally two types of closures that you can consider using – a lace closure or a silk closure. Lace closures can work well but they often require a bit more work to achieve the overall look you want because of the matrix of the lace and how it can be visible against your skin or scalp. Very often bleaching is needed to hide the grid look. A closure that is made from silk will provide you with a fantastic natural look without the knots being detectable at all. Silk also generally will last longer, making them a better investment.
Talk about Your Choices
If you are interested in learning more about the silk closures that we have available for you, please give us a call at the Magic Hair Company at 310-558-0181. You can learn more about all of the different hair extensions, weaves, wigs and accessories that we can offer you and you can also check out our website at www.magichaircompany.com so you can see the great items we have for sale today.