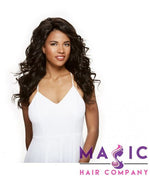 The Versatility Of Virgin Indian Wavy Hair
No matter what you seem to do to your hair, it never quite looks as good as you would like it. Perhaps it is that you do not have the length to style it the way it would look best. Perhaps you just do not have the natural body and thickness to your hair. Whatever the reasons are for your disappointment, you should know that there are solutions available to you that can give you the hair you want. When you look at some of the extensions and wigs available today from us at the Magic Hair Company, you will see that the virgin Indian wavy hair we offer has just the versatility you are seeking.
The Length to do What You Want
When you purchase the hair that we offer, you will get the added length just the way you want it. The extra length gives you the ability to do the styling that will create just the look you want. If you have always wanted long, curly hair that grabs attention, all you need to do is take your curling iron to get the look you want. Many of the extensions and wigs we offer just need air drying, and you can get the amazing curls you seek. For the times where you may want long, sultry straight hair, using a flat iron will do just the trick for you. You will have the body, volume, and length you want to do any style you wish.
Unmatched Beauty in Our Products
When you choose to purchase the virgin Indian wavy hair we offer, you will get incredible beauty for your hair. All hair we offer is unprocessed virgin hair so that you get the most natural and most beautiful hair for your use. Our offerings are far superior to what you get at your local beauty supply store and will last for a longer period of time, making each piece you buy well worth the investment for you.
See Our Hair Offerings
If you have an interest in getting virgin Indian wavy hair for yourself to create the dramatic looks you want, please take a look at what we have available here at the Magic Hair Company. You can see our selection when you visit or you can fill out our contact form for more information. You can also give us a call at 310-558-0181 during store hours and speak with our staff to get the input and recommendations you need so you are sure to get the best hair possible.