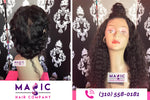 Add Style with the Best Los Angeles Wig Maker
If you want to improve your look with a new wig, then you don't want to compromise on quality or design. Firstly, the wig has to look as similar to real hair as possible, so that it is not obviously a wig. Although buying a customized wig can be expensive, this purchase is not something that you can afford to skimp on, and you need to hire the best Los Angeles wig maker available to make your wig as high quality as possible. At Magic Hair Company, we can provide you with natural hair wigs that will look as close to your real hair as possible.
Don't Look At Synthetic
You want to make sure that your wig is made from real human hair, as this stands the best chance of looking natural. If you choose a synthetic wig, then it is easily spotted, even from a distance, and you may find that both strangers and people you know are prepared to look at it and point out its obvious flaws. You should also avoid wigs made from animal hair, as these can also be very easy to differentiate from human hair. Using our specialist custom-made wigs is the best way to ensure that you get the look you want.
Styling Your Wig
One of the best reasons why you should always use a custom wig maker is that human hair wigs can be styled naturally, so that they look as natural as possible. If you normally style your hair in one particular fashion, then having a custom wig will allow you to keep that style going, so that it looks like part of your natural hair. Even if you want to change things up and get a new style, a customized wig will have great flexibility, allowing you to adapt and style it in any way you want.
Getting the Right Wig
You are looking for a professional maker of customized wigs, someone who can give you the best look when you are wearing a false hairpiece. Magic Hair Company is the best Los Angeles wig maker for natural hair, and we can provide you with great looking human hair wigs that are easy to style and work along with your own hair. If you want to order a new wig today, then contact us online, or send a message to our customer service team by calling (310) 558-0181 today.