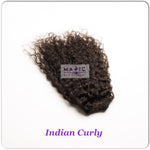 Get the Best Quality with Raw Hair Extensions
Hair extensions continue to be immensely popular today. Celebrities and models for many years have used extensions to add body, density, and length to their hair to create the styles that you and others will fall in love with when you see them. The choices available to you today for extensions seem almost endless, and it can be difficult for you to determine what the best investment for you is if you have never purchased something like this before. To get the best quality, you want to take a good look at raw hair extensions like we offer here at the Magic Hair Company.
Explaining Raw Hair
There are a lot of terms thrown around today when it comes to extensions that can lead to the confusion of making a purchase. Understanding the basics can be important to you, especially because buying extensions can be costly and you want to make sure you get something worthy of the investment. Raw hair is considered to be the best you can get, with the hair being unaltered in any way by chemicals, steam, or chemical processing. Raw hair is natural, pure, and unprocessed, making it the most authentic hair you can find today.
Acting like Natural Hair
Raw hair extensions make the best choice for you because the extensions will act just like your natural hair. You can get hair that matches your color the best or gives you the contrast that you want most. The hair will feel natural, and you will not have to worry about tangling or matting that you may experience with synthetic extensions or hair of lesser quality.
Choosing the Right Extensions
To see a great selection of all the raw hair extensions you can get, please look at what we offer here at Magic Hair Company. We have a fine selection of extensions made from the best, most natural hair available so that you can get the length and texture perfect for your new styles. See our extensions here on our website and place an online order, or phone us at (310)558-0181 to speak with a member of our staff so you can ask questions or get help choosing the hair extension best for you. If you prefer to send us a message, please use our online contact form and a member of our staff will get back to you soon.