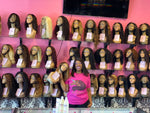 Affordable Alternative for Cold Cap Treatment
Affordable Alternative for Cold Cap Treatment
Hair loss on top of a devastating cancer diagnosis is daunting to face. Womanhood is often accentuated by the beautiful features of eyebrows, a head of flowing or curly hair, and lashes that give character to our gorgeous faces.  Women who battle cancer and undergo surgeries, such as mastectomies, or other reconstructive surgeries due to cancer, have much to adapt and adjust to. Not to mention the financial impact on their lifestyle now.  Hair loss prevention through cold cap treatments have been introduced to patients undergoing chemotherapy.  The idea here is to prevent the chemo drugs from entering the hair follicles by constricting blood vessels on the scalp, thus preventing or minimizing hair loss.  Sadly, everyone is not an ideal candidate for cold cap treatment. Cold caps are not a guaranteed hair loss prevention.  They do, however, decrease the chances of hair loss by up to 40%.  Cold cap therapy typically costs $400 per session. According to the latest article by the Mayo Clinic, most insurance providers will not cover the costs of cold cap therapies.   These sessions are conducted when patients arrive for chemo infusions.  A cold cap session can last 30 minutes prior to chemo, and up to 90minutes after chemo.  These sessions are costly and considered an elective treatment. So what affordable alternative is there?
Human Hair glueless wigs are a perfect alternative to the chilling and costly cold cap.
Understanding the impacts and drastic lifestyle changes that cancer brings about in a woman's life,  Magic Hair company has taken glueless, lace wigs to a level where affordability meets long lasting glam.  Maintaining mental fortitude, beauty, and dignity, after cancer has stripped patients of so much, are important elements that our hair loss customers want to retain. A glueless wig from MHC can provide that new spark of style to those who have suffered hair loss.  Wigs from Magic Hair Company are easy to wear, and long lasting.  The soft tresses are feather light, silky and beautiful.  Shop with us for a beautiful new accent to your crown.
 When we think about the  affordability of a custom wig, time spent, should definitely be factored in.  The time we spend styling, or searching for a stylist, shopping for hair extensions, the money paid for sew-ins or quick weaves;  Even the time spent on online websites buying several wigs so we have styles to switch into.   Magic Hair Company provides wigs that are not only of the purest and best quality, but they are versatile and can be styled perpetually. Meaning, with your purchase you can have several looks over the course of the wig's life.  Of course many customers do purchase more than one because of their love for how well the wig suits them and the undeniable quality.  At any time you can change the color of your wig, have layers cut, even change the length. If you initially purchased a 18 in and later decide that you'd like a shorter wig, we will cut it for you and restyle to create your desired style of choice.  We have a custom colorist available to meet with you.  Our team of wig specialists are here to customize your purchase and shopping experience.  A custom wig is the best, affordable alternative to cold cap therapy. 
Our custom glueless wigs will not irritate your scalp.  The careful construction of the cap is amazing.   Breathable, durable lace allows for wear during all seasons.  Customer testimonials repeatedly praise the masterful work done by the wig specialists at Magic Hair Company.  Appointments are available for custom shopping inside of our store in Culver City, California.  
  Subscribing to the newsletter will keep you updated on our Monthly featured wigs. Check out our featured wig section, and follow us on social media.  Exclusive discount codes are available online. Free domestic shipping is customary.  Ship time is less than a week.    
We wish you well on this journey,
Stay  beautifully you!