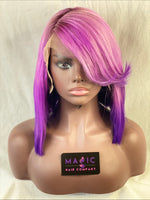 Best place to buy Human Hair Wigs in Los Angeles- Culver City Ca
Synthetic wigs and hair remind me of the older wigs that I saw growing up in my Granny's closet.  They would sit on faceless styrofoam heads in her bath closet: Creepy!! The hair was stiff and lifeless.  Human hair wigs and weaves have totally revolutionized the beauty industry.  Flawless textures, that move when you move, giving you a flair all your own. 
One timeless fact remains the same: We as customers want a personable, unique experience when choosing a wig, versus ordering one online.  Have you purchased online before then the quality was not what you desired or expected? Returning can be a hassle, Refunds can take longer than  a season to change -- IF they even offer one, and shipping can be days or weeks.   During this time of zoom meets, virtual dating, video conferencing, we want to look our best. PERIOD. 
Magic Hair Company has specializes in custom human hair wigs for 10+ years. Styling, bangs, and layers are all included with your new wig. When you shop with us you are able to also meet with our colorist to make your wig one of a kind. If you have a exact look in mind screenshot it and send it in to us. We really can create the look of your dreams. What are you waiting for?  
Wig store near me
Magic Hair Company is opened during these uncertain times.  Providing superb quality Human Hair wigs, Magic Hair company is available online, but more importantly, In person to serve you.  The highest quality of Human hair is used in every unit. Human hair clip ins and samples are available here as well.  Come peruse our Human hair Full Lace wigs.  Options are endless. Should you choose to order online we offer free domestic shipping and in store pick up at check out.   Magic Hair co is a one stop shop for Wigs, Color, and Installations.  Custom wigs are our specialty.  All varieties of human hair textures can be custom made for you.  Magic Hair Co. isn't your typical  wig boutique.  With ten years, (and counting) of experience in this industry, Magic Hair Company is reliable and committed to great customer service. Make an appointment and see for yourself.  Here at Magic Hair Co. you will be warmly welcomed, and met with concierge type vibes. We are a short drive away if you are in Culver City. 
What are the best Products to maintain Human Hair Wigs and Extensions?
Magic Hair Companies signature hair care products are sold both online and in store. These products are selected and recommended  to extend and enhance your human hair wig selection.  From shampoos, conditioners, edge tamers, product  choices are abundant.  We have our own Keratin shampoo, Keratin conditioner, and Hydrating curl definer.  Quality swiss lace is used in our lace wigs, which last for years.  Premium, quality human hair is chosen for all of the wigs made at Magic Hair Company.  Whether it is a Full Lace, Front Lace, Closure, clip in, or wefted hair weave, we carefully select the strands that will give our clients the softest and most natural looking hair achievable.  Our Human hair wig store currently has Curbside pick-up available as we remain socially safe and responsible. Just give us a call and we will bring it right out to you.
Our Culver City location is opened Wednesday - Saturday by appointment.  You may choose a time slot between the hours of 11a and 6p.  Our storefront sits at  8638 Washington Blvd, Culver City California . Parking is available directly in front of the store.  Fully stocked with the chicest Full Lace Human Hair wigs , all hand made and available for purchase.  You have the option of Quad pay or in store financing.  We have a team of friendly, knowledgeable wig specialists ready to help.  Many of our Clients have hair loss due to chemotherapy or other conditions. We understand and are very sensitive to the delicate conditions causing hair loss.  Our wigs are changing and transforming lives, One Wig At a Time.  We are wig specialists who have a knack for listening, bringing your vision to life, giving honest direction in hair care and wig selection for your unique need(s). Skilled and creatively talented we love what we do.
  There are so many perks of coming into the store.  Custom coloring is done in store. Wig installation is done in store as well.  Included in every purchase we will style, curl, give bangs and layers, ---all included with your purchase.   Magic Hair Co. is a wig store that aims to please.   Magic Hair co prides ourselves in providing a one on one custom wig experience.  Have something specific in mind? We will  gladly customize your experience.  Let us know how we can best serve you.  Jump on a Live Instagram or Facebook session and let us know your questions, comments, what you'd like to see more of on our site, or topics you'd like discussed in our blogs.  We are live every Friday at  3 pm PST on instagram and Facebook.  During these  IG and FB Lives we display many of our wigs. As your wig maker, colorist, and human hair wig store, I want to hear from you. Check out our featured wig section and please subscribe to the newsletter for the latest sales, giveaways, and promotions. We are eager to work our Magic for you...
Stay beautifully you--
Standing strong in the wonderful Culver City, Magic hair company has been a staple in the hair industry for 10 plus years and counting.  Knowledgeable and Professional stylist with a keen sense of detail is what you will find at Magic Hair Company.  The inside cap construction on all of our wigs come with a scalp illusion, eliminating the need for a stocking cap.  The hair feels luxurious, soft, and so silky.  Maintenance is a breeze at home or it can be done for you inside of our store. Care is taken with the best products when shampooing, conditioning, and heat styling our wigs.
What is the difference Between Swiss lace, HD lace, and Transparent lace
Lace Front wigs made their debut in the early 2000s.  Mainly used in Hollywood for screen actors, now they are a hot seller for many consumers.      There are many lace wig types: full lace options: front lace, 360 lace. This variety brings us to take a closer look into what kinds of lace is used in the various types of lace wigs.  The most popular three will be covered in this blog. What are their differences?
Swiss lace is a very durable lace. Thin, yet durable, Swiss lace is a great choice. Most hair companies use swiss lace in front lace wigs because it is thicker, but still gives a very natural hairline.  This natural and durable lace easily matches your complexion.  These two features make swiss lace a superb choice to use in a lace wig cap construction. Swiss lace is available in the top colors: light brown (tan), medium brown, dark brown, and transparent.
HD lace has been a trending word for a short time now.  High Definition is a word that we hear a lot when we are talking about what? Videos, cameras, picture quality, TVs.  So this lace is best used if you will be doing a photoshoot, video shoot, or some sort of entertainment under a certain type of lighting.  Known for its very thin quality, HD lace is an ideal choice for a truly invisible look. When the camera picks up the fine details, HD lace is great because you will not see the lace.This thin lace is not the most durable, and will not look the same as when you first purchased it over time.   The thinness of HD lace makes it very fragile.  Care must be taken when handling a HD lace wig.  If wearing your wig daily, this fragile lace will fray and not hold up over a period of time.
Transparent lace is actually regular lace, but just transparent in color.  The transparent lace is great for a very fair skinned, light complexion. However it can be dyed to match just about all complexions.  Once a HD lace is installed the lace becomes invisible revealing a natural hairline.  Like HD lace, transparent lace is not very durable .  Buyer beware:  if you purchase transparent lace and you are a darker complexion, you Must dye the lace to blend to your complexion. Otherwise, you will have a noticeable white line along your hairline.
Magic Hair Company's preferred lace is Swiss Lace in light brown.
Glueless, lace wigs constructed at Magic Hair company are designed with longevity in mind.  The durability of swiss lace allows for daily wear, while maintaining an intact lace cap.  Swiss lace is easy to clean, and will maintain its shape.  With the current lace shortages, choosing a long lasting swiss lace wig over some of the other trendy products is recommended.  This ensures a product that can be worn a few years until the market is stable and production of lace can continue. 
Wig store near me? Best glueless lace wig store? Best wig maker?
Purchasing a glueless wig will bring simplicity to your morning and evening hair routine. Going from glam, chic, haute, and gorgeous styles will take only a few seconds to slip into. Invest in yourself and go glueless. Allowing more time for self care, conquering dreams, and enjoying the life you love is an incomparable trade off versus time spent on wig installs. Going glueless also means a healthy hairline, a protected scalp free from irritation, and not having to check on lifting when glue begins to lose its hold. Invest your time and spend your coin wisely. Time well spent, makes your soul content.
Stay Beautifully You…
Stay beautifully you…