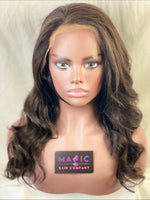 What is the Difference Between Lace Wigs from the Beauty Supply and Magic Hair Company Wig Store?
What is the Difference Between Lace Wigs from the Beauty Supply and Magic Hair Company Wig Store?
The Magic Hair Company difference : It's the Longevity of the product for Me.
There are so many differences to highlight and feature in this blog.  This speaks volumes to how Magic Hair Company is truly in a class of its own.  I will begin with a few major differences.  Magic Hair Company stands out due to Quality, Service, Experience, and Customer Satisfaction.
Quality:  Natural human hair is used in the construction of all of the wigs at Magic Hair company.  All bundles and clip-ins that are sold are human hair.  There are absolutely no blends, synthetic fibers, or fillers used in any of our products.  The high quality of human hair selected for the lace wigs sold at Magic Hair Company will not disappoint.  Zero shedding, tangling, or matting is experienced with these gorgeous lace wigs.  Easy to comb, ready to wear, and low maintenance are the key perks of a lace wig from Magic Hair Company.  The wigs are touchably soft, supple, and frizz free. Boasting a  Radiant natural sheen of luscious locs, which come custom colored.  Coloring is done by an experienced professional colorist inside the Culver City store. Lustrous color that is not only fade resistant, but heat safe comes standard with any color services provided.  All of  the lace wigs are conditioned to maximum hydration, leaving them soft and never brittle after coloring. The quality of the lace wigs is undeniable. Once you purchase with Magic Hair Company you will immediately see the difference.
Service:  Concierge style service and close attention to detail gives every customer a personalized experience when shopping with Magic Hair Company.  Whether you shop online or inside the polished and professional Culver City boutique, service will exceed your expectations.  Prompt free domestic shipping is customary on all orders. Wig maintenance is provided for customers, with complimentary styling.  Several perks are available as well as a plethora of payment options. In store financing, quad pay, apple pay, amazon pay, all major credit cards are accepted just to name a few of the choices that customers have.   
Experience: Talent, skills, and professionalism are all embodied in the passionate team. With a wealth of industry experience, all of this is what is so unique about Magic Hair Company.  Brilliant expertise in a welcoming atmosphere keeps customers coming in from all over to shop with Magic Hair Company.  The pro styling tips that are given, the valuable suggestions that are made, and time spent investing into their craft and product is evident in the finished product.  From an easy to navigate website for purchasing featured ready to wear wigs, to the custom designed wigs that are handcrafted by request, Magic Hair Company provides lace wigs that leave customers with a fresh perspective on shopping for lace wigs.  Customers leave with a new knowledge of what to look for in terms of quality hair and hair care products.
Wearing a Lace wig from Magic Hair company you can expect  an indescribable natural look.  I can't tell you how many times I've been asked " Who does your hair?"  or  "Where did you get your hair colored?"  People are shocked to find out that I am wearing a wig.  Beauty supply store wigs will never rank in the category of the lace wigs from Magic Hair Company.  The business model of beauty supply stores is MONEY. Capital.  Mass production.  Marketed as human hair, while full of synthetic fibers that will not last.  Please don't be fooled.   Color will be dull, the hair will shed, tangle, and they will not stand by their product.  Customer service will argue that the customer did not follow the care instructions.  Customer satisfaction is not their concern.  The business model is not customer oriented.
When we consider where to spend our money, it goes without saying that we want the best service and the most for our money.  Magic Hair Company gives that and more.  Treat yourself to the quality that you desire.  Experience the Magic Hair company difference, as they continue to change lives one custom wig at a time.
Stay beautifully you…