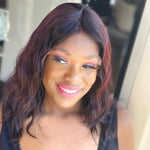 Destination Wedding hair options are glueless lace wigs for elegant bridesmaid and bridal look.
Wedding Hair
Bridesmaids Options
Weddings are more than a day shared between the bride and groom, but a day that brings indescribable joy to all who come to celebrate the joining together of two lives. The memories captured via videography and photographs truly last a lifetime for generations to witness that special moment in time. It goes without saying, the bridal gown, wedding party's attire, the wedding and reception decor all add an element of elegance and splendor for all to behold. Memorable. Sacred. Marital Bliss. Everyone is watching as the Bride makes her entrance and is unveiled. Her hair, her make-up, gown, shoes, and jewels are all impeccable. A day that she will always remember.
Magic Hair Company enjoys nothing more than styling custom lace wigs for Brides and their bridal party. We will gladly take care of the Bride's wig, and the Mother of the Bride. Last February, Janeice Heyward, owner of Magic Hair Co., got married. Her Wedding Day was filled with all the exquisiteness and love that the day could hold. The bridal party was beautifully crowned with wigs from Magic Hair Company.
Planning a wedding, reception, pre wedding photoshoots, pre-wedding parties (engagement party, bridal showers, bachelorette getaways etc.) take lots of energy. A dedicated amount of time is put into planning this day. Scheduling hair appointments for each event can get tricky. Opting for a custom glueless lace wig from Magic Hair Company is an excellent choice that will save everyone time and money. In 2007 when I got married, wigs were not as popular. I remember my stylist trying out several styles over the upcoming months until we perfected the right look for my wedding. Reflecting on that season of time in my life, if glueless lace wigs were available I most certainly would have gotten a consultation and ordered a custom wig. My wedding day hairstyle, while beautiful, lasted two days. My custom color changed drastically in the blazing sun while honeymooning in Maui.
Glueless lace wigs from Magic Hair Co. offer a great deal of flexibility for brides and bridal parties. The convenience and versatility of a lace wig will allow everyone time to enjoy what truly matters. You won't spend hours in a salon, your stylist won't have to be onsite during your photoshoot or meeting you pre ceremony to style your hair or the bridesmaids hair. Indulge yourself on your special day and let Magic Hair Company customly design a lace wig to help you achieve your desired look. Enjoy your wedding celebration and honeymoon without the upkeep of traditional styles or extensions. We encourage all brides to schedule a consultation appointment at least two to three months prior to their wedding. Ordering from Magic Hair Company is easy, and shipping is complimentary and fast. Wedding season is rapidly approaching and is a very busy time at Magic Hair Company. Subscribe to our newsletter, and join us weekly on our Social Media platforms for live videos. Visit us at our Culver City store located near LAX. Happy Valentine's Day Everyone
Stay Beautifully You…