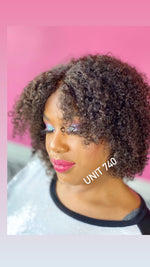 Easy Maintenance Curly Wig Vacation Hair
Easy Maintenance Curly Wig Vacation Hair 
Vacation is a time when we let ourselves slip into carefree mode.  Fun is on deck and relaxation is in the queue.  It is the ideal time to wear an easy maintenance style.  There is nothing like being camera ready in minutes.  Not having to pack several styling products or styling tools is a definite plus when on vacation.  Easy maintenance curly wig vacation hair is a superb choice for a spring or summer getaway.  Really anytime of the year, curly hair is in style and can be easily worn.
Curly wigs are chic and fun.  An added benefit is that they can be worn wet or dry.  There is little to almost no maintenance needed.  Curly wigs are a shake and fluff kinda do.  Spraying the curl hydrator and definer onto a curly wig is all that is needed to style. You have the option of saturating the curly wig, brushing the product through to wear a wet look.  On vacation, this is an ideal choice for a beach vacay, yacht escape, or island vibe.  Wet hair don't care anyone?  YaSSSS.  
Option two gives more volume  and a sexy polished look.  At night you'll hydrate your curly wig working the curly hydrator and definer through the tresses.  Allow it to dry overnight.  In the morning finger styling is all it takes; fluffing to create body and volume.  Shake, fluff, and viola it is ready to wear.  Easy maintenance curly wigs are such a great choice.
The custom curly wigs at Magic Hair Company are the creme de la creme.  High quality hair that will not shed, tangle, nor matte.  Our easy maintenance curly wigs last you for several vacations.  The exclusive hair care line gives you a no fuss routine that reaps benefits for your natural hair and human hair wigs.  The quality of tresses will be preserved using our keratin shampoo and conditioner.  Your custom color won't fade, but will remain vibrant and soft.  Treat yourself to a luxurious easy maintenance vacation wig from MHC.  Come visit us at our Culver City, CA store.  Appointments are available and preferred for one on one consultation and shopping.  Your experience does not have to end at checkout.  Custom color specialists are available in store. You can meet with our colorist for this amazing service.  Additional services such as cutting layers, inches, bangs and styling are also available to you..  As you plan your vacay, please help yourself to our featured wig section.  We are a few clicks away, ready to serve you.
Happy Spring Everyone. 
Stay Beautifully You...
How to Shop for a Custom Lace Wig
When I hear custom, I hear personalized, designer original, exclusive -- specific to my needs. Perfectly suiting me.  Custom or detailed items align with our individual signature appeal.  Customization is far from standard or basic.  When it comes to hair, we don't typically  like basic.  We want the oomph that makes us love what we see when we catch a glimpse of it in the mirror.  The nod of approval when it lays just right, and bounces just enough to announce its beautiful presence.  Yes we want custom styling, coloring, and cuts. It is available and closer than you think.
Look in the mirror and zone in on a quality or feature that you like about yourself.  Is it your cheekbones? Eyes? Lips? Brow Bone?  When you narrow down that feature, think next about how you would accentuate it.  Would a new hair color make your eyes stand out?  Would a fierce cut show off your cheekbones or amazing side profile?  How about flowing curls with long layers that bring acclaim to the natural arch or your brows and camera worthy smile.  When shopping for a custom wig, keep YOU in mind.  What brings out the best in you.  Images can be altered or enhanced.  Enhancing can be done so easily.  A positive Self image is the best beauty secret out there.
Custom wig specialists have the ability to create custom lace wigs that enhance and compliment natural beauty in a way that doesn't alter your sense of self.  You want to choose a wig stylist who is a great listener and visual artist.  Custom wig styling takes a creative personality, who can visualize details in a way that customly fits their client.   Let's be honest, no one would want a "one size fits all'' wig.   Custom lace wigs frame your face, highlight your best features, and the custom cap size gives the comfortable fit based on your measurements.  
Magic Hair Company enjoys meeting new customers and customizing not only their shopping experience, but also the immediate and long term needs of clients.  Clients who are experiencing hair loss, want a weightless natural looking alternative.  With our new store hours, Monday -Saturday 1030a-6p PST, appointments are preferred so that we can properly accommodate each client.  Safety measures are in place during this time to keep our space sanitized between each appointment.  During your visit we encourage you to bring any pictures of colors or styles that you would like to achieve.  The customization begins with you sharing your desires with our style team.  We have several textures to choose from, our manufacturers have premium hair ready and available to craft the perfect custom lace wig for you.
Purchasing a glueless wig will bring simplicity to your morning and evening hair routine. Going from glam, chic, haute, and gorgeous styles will take only a few seconds to slip into. Invest in yourself and go glueless. Allowing more time for self care, conquering dreams, and enjoying the life you love is an incomparable trade off versus time spent on wig installs. Going glueless also means a healthy hairline, a protected scalp free from irritation, and not having to check on lifting when glue begins to lose its hold. Invest your time and spend your coin wisely. Time well spent, makes your soul content.
Stay Beautifully You…
Shop with the best.  Schedule your appointment today with  The company that has fine lace,  that is sheer, yet durable, premiere quality tresses, and a cap construction that is comfortable and easy to wear.  Glueless Custom lace wigs made with fine attention to detail along with hair that lasts years is what is in store for you at Magic Hair Company.  Wig maintenance is provided, styling, and refreshing is available to you.  Our team will gladly cut layers, give the wig a new cut or color whenever you want a switch up.  The only step that you need to take in order to purchase a custom lace wig is booking an appointment with us or shopping with us online.  In addition to custom wigs, we also stock several ready to wear, ready to ship wigs.  All of our wigs are glueless, therefore wearing them is uber easy and no install appointment is needed.
Stay beautifully you...