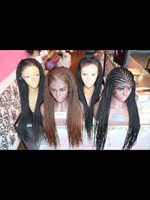 Best Braided Wigs in Los Angeles
Best Braided Wigs in Los Angeles
The weather is heating up , vacations, and staycations are being planned.  Goddess braids, Butterfly locs, Senegalese twists, feed in styles are haute and oh so chic.  Stylish and convenient is what we like.  So a braid appointment is scheduled for a 4 to 5 hour time slot (maybe longer), a deposit is paid to hold the appointment, and then you shop around to find braiding hair, or  faux locs which can run $40-$150 for 5 packs.  When it all adds up, time spent shopping, time spent getting braided or twisted, and then paying for the service, it's pretty pricey.  Traditional braids, faux locs, or twists may last two or three months, while a braided wig will last years.  Time saver and affordable.  Less expensive  when you consider the pros.  The pros are numerous.
Custom glueless braided wigs are sold at Magic hair company.  This is one of the hottest and most economical trends.  Not only do you save money, but you save time and edges.  Hello Somebody!   No more sitting for hours waiting to get braided and then spending a day to take them down. The full lace braided wigs are sold in our Culver City store located right outside of LAX in the beautiful city of Los Angeles.  Braided wigs are this season's game changer.  Convenience and affordability --- need we say more?  Styles vary from butterfly locs to feed in scalp braid styles, and twists.  We have a gorgeous half up half down braided wig that is currently on sale in our featured wig section.  Custom colors are popping in warm blondes and honey browns.  Our colorist is available for in person consultation for any  custom color that you want.  Just send us photos of what you'd like and we will work with you to achieve your desired results.
Each braided wig has small neat parts, and the braids are of equal size and length. Uniformed appearance is standard, and the hair is braided down to the end of the braids.  Frizz free, no frayed ends. The braided wigs are perfection; check our  customer reviews.  An added bonus with braided wigs is not having to deal with a dull appearance, the braid remains intact with a nice natural sheen.  The quality human hair used is of the best quality.  Box braids and other traditional braids, require daily moisturizing and sleeping in jumbo satin bonnets in order to keep the style fresh and reduce frizzing.  Upkeep of a braided wig from MHC is very minimal.  The wigs are designed and constructed with comfort, style, and longevity  in mind.  There is baby hair around the perimeter.  When ordering you can request removal and we will gladly cut it for you.  The baby hairs are light and can be molded down using a light gel or edge tamer, or you can tuck the hair away under the cap.  Many of the braided wigs can be worn up in a chic top knot , or worn down in a  long and flowing style.  WIth the sheer lace cap, you have the versatility of wearing a  side or center part.  Braided wigs are fun.  Magic Hair company offers several lengths.  We have short braided bobs and long waist length locs.  What are you waiting for?  Treat yourself to that long overdue switch up.  A unique personable shopping experience awaits you.  Try on as many as you like, or give us a design to custom make for you.
If you are visiting Los Angeles check us out.  Appointments are preferred.  You can purchase online and pick up in store or have it delivered.  We are here to serve you with the best of the best.