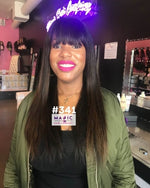 Get Your Ideal Look with a Los Angeles Wig Maker
When you decide that you want to improve your look with a wig, then there are a few obvious priorities before you make a final choice. The first priority must be that you want that wig to look as natural as can be, so that people don't immediately realize that you are wearing a wig. You don't want people to start staring at you and make fun of you for wearing that wig, so a natural look is essential. You will also need to prioritize finding a Los Angeles wig maker with the skills and experience to create the perfect wig for your look.
Getting More Style
By choosing a professional wig maker, you are paying too by a customized wig. The wig maker is likely to be able to offer you a variety of services, including obtaining natural hair so that the wig hangs and moves naturally and can be styled just as though it was your own hair. This is very important when you are wearing a wig, since fake or synthetic wigs tend to look very static and obviously false. A customized wig will be able to use natural hair to create the perfect look.
We Can Make Your Wigs
When you are searching for a natural wig with plenty of movement, then the Magic Hair Company might be the perfect solution. We are able to create hair made from high-quality natural material, so that there is nothing fake about the final product. We don't mix that natural hair with any type of synthetic or animal hair, so there are no fillers in our finished products. This means that you get an authentic, natural looking wig which can be manipulated and styled as easily as your real hair.
Start Your Wig Wearing Experience Today
To make sure that you are getting the best quality wig available, you should prioritize inspecting the location where the wigs are made. You can come to visit our Los Angeles wig maker today, and you can also visit our website and see the selections that we are able to offer you right now. Look at the wigs we have to offer, and either send us a message about the wig that you want, or call us on (310) 558-0181 today to speak to our experienced team and arrange a customized wig creation to suit your needs.