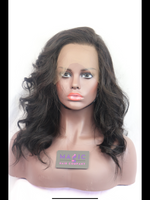 How to Shop for a Custom Lace Wig
How to Shop for a Custom Lace Wig
When I hear custom, I hear personalized, designer original, exclusive -- specific to my needs. Perfectly suiting me.  Custom or detailed items align with our individual signature appeal.  Customization is far from standard or basic.  When it comes to hair, we don't typically  like basic.  We want the oomph that makes us love what we see when we catch a glimpse of it in the mirror.  The nod of approval when it lays just right, and bounces just enough to announce its beautiful presence.  Yes we want custom styling, coloring, and cuts. It is available and closer than you think.
Look in the mirror and zone in on a quality or feature that you like about yourself.  Is it your cheekbones? Eyes? Lips? Brow Bone?  When you narrow down that feature, think next about how you would accentuate it.  Would a new hair color make your eyes stand out?  Would a fierce cut show off your cheekbones or amazing side profile?  How about flowing curls with long layers that bring acclaim to the natural arch or your brows and camera worthy smile.  When shopping for a custom wig, keep YOU in mind.  What brings out the best in you.  Images can be altered or enhanced.  Enhancing can be done so easily.  A positive Self image is the best beauty secret out there.
Custom wig specialists like Magic Hair Company wig store have the ability to create custom lace wigs that enhance and compliment natural beauty in a way that doesn't alter your sense of self.  You want to choose a wig stylist who is a great listener and visual artist.  Custom wig styling takes a creative personality, who can visualize details in a way that customly fits their client.   Let's be honest, no one would want a "one size fits all'' wig.   Custom lace wigs frame your face, highlight your best features, and the custom cap size gives the comfortable fit based on your measurements.  
Magic Hair Company enjoys meeting new customers and customizing not only their shopping experience, but also the immediate and long term needs of clients. Many of our clients are suffering with different hairloss issues and some just want a new look.  Clients who are experiencing hair loss, want a weightless natural looking alternative.  With our new store hours, Monday -Saturday 1030a-6p PST, appointments are preferred so that we can properly accommodate each client.  Safety measures are in place during this time to keep our space sanitized between each appointment.  During your visit we encourage you to bring any pictures of colors or styles that you would like to achieve.  The customization begins with you sharing your desires with our style team.  We have several textures to choose from, our manufacturers have premium hair ready and available to craft the perfect custom lace wig for you.
Shop with the best custom lace wig maker with 10+ years of experience.  Schedule your appointment today with a company that has fine lace,  that is sheer, yet durable, premiere quality tresses, and a cap construction that is comfortable and easy to wear. Glueless Custom lace wigs made with fine attention to detail along with hair that lasts years is what is in store for you at Magic Hair Company.  Wig maintenance is provided, styling, and refreshing is available to you.  Our team will gladly cut layers, give the wig a new cut or color whenever you want a switch up.  The only step that you need to take in order to purchase a custom lace wig is booking an appointment with us or shopping with us online.  In addition to custom wigs, we also stock several ready to wear, ready to ship wigs.  All of our wigs are glueless, therefore wearing them is uber easy and no install appointment is needed. Call us today at (310)558-0181 to make your appointment. You wont be disappointed. 
Stay beautifully you...