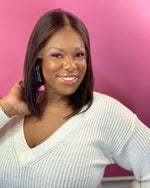 Natural Free Parting Glueless Lace Wig Lace wigs
Natural Free Parting Lace Wig
Lace wigs in themselves are naturally chic, and effortlessly changes up our wig game instantly.  Add a part to it and the versatility of styling becomes even more of a game changer.  Side part, off center part, center part, c-shape, zig-zag, double or triple parts for twists or braids, it can all be so simple and flyy.
Custom Lace wigs crafted at Magic Hair Company provide a custom cap with lace that extends up to 6 inches back from the hairline, allowing a good amount of flexibility for parting.  The delicate, yet durable lace offers a transparent scalp illusion resembling your very own natural scalp.  A natural part sets your look aside, making your wig look like scalp grown hair.
Being able to part your wig anywhere gives you multiple styling options.  Same lace wig, but a different style is the versatility that most clients are looking for when deciding on a wig.  The Free parting lace wig is an excellent choice for dolls like me who also enjoy an elegant half up half down "Do" from time to time.   Revealing a natural scalp throughout the front of the wig makes it a prime choice.  Natural free parting lace wigs pack all the luxuries of having a no fuss easy to style lace wig. Unlike closures that come with fixed parts, free parting lace wigs never leave you feeling bored.
Complimentary styling is customary at Magic Hair Company.  Our Natural free parting lace wigs are a top seller.  We encourage you to schedule your in store appointment to view our selection of ready to wear free parting lace wigs.  Available online and ready to ship to you, natural free parting lace wigs are this season's go to option.
Subscribe to our newsletter for upcoming sales and features.   Comment below and let us know how the year is going for you and what type of wigs will be your go to this season. 
Stay Beautifully You…