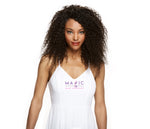 Taking Care of Your Full Lace Wig
Purchasing a wig can be a big decision for you. You may have different reasons for wanting or needing a wig, but whatever your reasons may be, you know getting a wig of quality is a big investment for you. A good wig can cost hundreds or thousands of dollars, and you want to know that what you buy is quality and is going to last you a long time. The key to making sure your wig holds up well is taking care of it the proper way. Learning how to take care of your full lace wig will give you many wears and help you to get your money's worth.
Washing your Wig
It is best to wash your wig regularly so you can keep it looking at its best. Using our signature keratin shampoo designed specifically for wigs is the way you can go. Also try our keratin conditioner. These 2 signature haircare products are what you need for ease wig maintenance.  Add a small amount our hydrating curl definer  to define your wavy, curly, deep body wave, and kinky curly.
You may only want to wear your full lace wig on certain occasions, which means you want to have a place where you can store it safely until you are ready to wear it again. Investing in a mannequin head can be a good idea so that you can keep the wig styled nicely and prevent the hair from getting tangled. Covering the hair with something like a silk headband can help prevent dust from accumulating on the wig.
Buying a Quality Wig
If you would like to buy a quality full lace wig to wear every day or for special occasions, here at the Magic hair Company, we have a great selection for you. You can find a wig that is perfect for you in just the right color, length and style right here on our website. Place an order online to get your wig delivered to you, or phone us at (310) 558-0181, and we will be glad to assist you in choosing a wig that will provide you with a fantastic look.