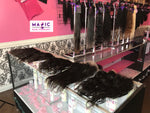 Using a Lace Frontal with Your Hair
If you were not blessed with the type of hair that you really want or just want to achieve a different look for yourself with your hair, you have many great options available to you today. While some people may have an interest in going with a wig to create a new look, there are all kinds of extensions that you can explore that can add great length and body to your hair and create a completely new look for you. Even with extensions, your hair may still not be perfect for you. In cases like this, you may want to explore the idea of using a lace frontal with your hair to make everything seem more natural and give you a look you want.
A More Affordable Option
If you have ever explored the marketplace for full wigs, you know that they can be very expensive. To get a wig that looks great and is made well can easily cost you hundreds and hundreds of dollars. If this option is not affordable to you, a frontal can be a better option. Frontals are a lot less of an investment for you, making it something that more people are looking into today. You can buy a frontal and have it placed into your hair at your hair salon by someone that is an expert in this type of work so you can be sure to get your hair in the style that is best for you and spend a lot less money.
Versatile for Styling
When you get a lace frontal, you get something that provides you with a lot more versatility when it comes to styling. With a frontal, you get options that you may not have were you to buy a lace closure. Frontals allow for your hair to be pulled back in styling. You can easily integrate the frontal with your natural hair or with extensions you may have to create the style and pattern you want to show. This allows you to choose different options to create different looks.
See Our Frontal Options
If you are interested in purchasing a lace frontal, then you will want to take a look at the options we have available at the Magic Hair Company. You can see all of our products when you visit our website at www.magichaircompany.com so you can learn what options are available and even order directly right from our web store. You can get the frontal you want so that you can create the beautiful hairstyle you always wished you had.