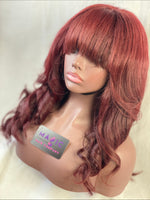 What's the difference between Yaki straight, Kinky straight, and Silky straight?
What's the difference between Yaki straight, Kinky straight, and Silky straight?
Don't we just love options?  The human hair choices that we have are plenteous. Textures are varied. As we know, variety is the spice of life.  Let's season our life a bit as we walk through the differences between a few of the most popular textures.  While all of them are hot sellers, silky straight has been one of the top sellers for a few years.  For black women we find yaki straight and kinky straight choices are among the most natural looking extensions and wig textures.  So we wanna know what differences separate the three top choices.
Yaki straight is hair that resembles the texture of black women's hair after it has been chemically relaxed. This texture has a small kink to it. Yaki straight is processed human hair made either from either a remy or non remy source.  It's very dense and will not shed much.  This hair texture is a great option for versatile styling. With great care, it can be used repeatedly for a long lasting style. Yaki straight is a very realistic looking texture and matches well with different hair types from afro to caribbean (4a, 4b, 4c)
Kinky straight
A very fun and pretty texture to wear.  The kinks or waves in this hair are great for curly and high volume styles.  Big, bouncy hair.  Kinky straight is very fluffy.  Very soft, kinky straight hair doesn't shed nor tangle.  It looks very similar to a non relaxed blowout.  Kinky straight is very durable and lasts a long time just like yaki straight.  Maintenance is easy. You can wear curly styles without tangling or matting. Keep kinky straight hair well conditioned and hydrated. Use ceramic iron or flexi rods to prevent frizzing. The hydrating curl definer and amplifier from MHC is the perfect product to use.
Silky straight
When you want to rock a fire bob you can not go wrong with silky straight human hair.  Silky straight is just as its name implies : soft and silky.  Tangle free and no shedding.  Sleek and sexy styles may be achieved with Silky straight human hair.  I love that it is very easy to maintain.  Silky straight hair is made from virgin or chemical free hair.
Human Hair, whether it is yaki, kinky, or silky, affords us the versatility we want.  There's no shedding or tangling with the human hair options Magic Hair Company provides.  Check us out in our store in Culver City, California.  Subscribe to our newsletter.  Subscribers have access to our specials, promotions, and latest news.  Follow us on social media: Instagram;Tik Tok; Facebook.  We would love to connect.  
Stay Beautifully you...