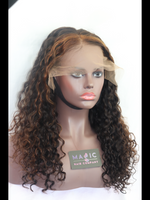 Where to Find the Best USA based Custom Lace Wig Store
Where to Find the Best USA based Custom Lace Wig Store
While all of the human hair used for bundles, wigs, closures, and clip-ins come from India,  there are several US based custom lace wig stores.  The supply chain process involves India, South Korea, and China.  US based custom lace wig stores are online primarily.  Lower overhead costs have driven most companies to be web based only.  So are there physical US based Custom lace wig stores?  Yes.  Would it intrigue you to know that there is a Custom lace wig store with both a physical location and virtual space?  Black owned, woman owned, and a highly professional US based store.  Read on to learn where to find such.
Custom Lace wig stores serving only the premium extensions and custom lace wigs can be found in areas where the demand for quality extensions and human hair lace wigs is high.  Searches not only start with Google, but while scrolling through top social media platforms like TikTok, Instagram, Twitter, and Facebook.  Following hair gurus, fashion forward celebs, and our favorite social media influencers often lead us to check out who is styling their hair.  Tagging the hair companies shed all the light on where to go to find quality custom lace wigs.  The most knowledgeable companies in the industry have been around for decades because they are keeping quality at the center of all they do.  
US based stores like Magic Hair company, are conscientious of the need for pure human hair products.  Synthetic products filled with animal hair or plastics not only look bad, but can also cause allergic reactions when worn.  Human hair is minimally processed, therefore it lasts longer because there is not an abundance of chemicals present.  Hair companies not based in the USA are notorious for mass production of synthetic blends.  Capitalistic societies manufacture wigs in the cheapest way possible, using the least expensive laces and products available.  Resulting in a product that will look good only before shampooing or coloring.  
Magic Hair company, a US based, black owned custom lace wig store located in Culver City, California, tests all hair products before wig construction begins.  All custom coloring is done at the store for this reason.  During the coloring process, hair that is not 100% human hair will not lift.  This is a tell -tale sign that synthetic fibers are present and that the bundle, or unwefted hair is not human hair.  Dealing with reputable distributors and vendors is key for Magic Hair company.  In order to produce the best, you must purchase the best.  This is why Magic Hair company has solid reviews as a reputable USA based hair company.  Using only Human Hair for all custom lace wigs, and hair products, Magic Hair company also only uses the most durable, yet sheerest lace available on the market.  The use of High Quality products in addition to being well managed  gives Magic Hair the edge over overseas competitors.  Customer service is outstanding.  The team is knowledgeable and professional at Magic Hair Company.  USA based lace wig stores outshine online companies largely due to language barriers with foreign run companies.  Communication and service from Magic Hair Company is prompt as they seek to meet the sensitive needs of hair loss clients.  You will not get an automated response, yet you will be in touch with a team member who has years of industry experience.  
Shopping inside the Culver City store,  which is located near LAX, is a non intimidating experience.  Everyone is welcomed with hospitality. Appointments are encouraged.  This gives you and the staff the time needed to customize your shopping experience.  A brief consultation is done to better understand what you would like to achieve.  Whether it is a first wig purchase, a new wig, or a refresh for a current Magic Hair Company custom lace wig, we are ready to assist and make your desired look a reality.  Check out our social media platforms, and go live with us on IG to get all of your questions answered.  Proudly black owned, and US based, Magic Hair company continues to change lives, one custom lace wig at a time. We are your premiere, one stop boutique for glueless custom lace wigs.  We will see you in Culver City.  Let's keep in touch.  Subscribe to our newsletter for all updates, our featured ready to ship wigs, and promotions.
Purchasing a glueless wig will bring simplicity to your morning and evening hair routine. Going from glam, chic, haute, and gorgeous styles will take only a few seconds to slip into. Invest in yourself and go glueless. Allowing more time for self care, conquering dreams, and enjoying the life you love is an incomparable trade off versus time spent on wig installs. Going glueless also means a healthy hairline, a protected scalp free from irritation, and not having to check on lifting when glue begins to lose its hold. Invest your time and spend your coin wisely. Time well spent, makes your soul content.
Stay Beautifully You…
Stay Beautifully you...