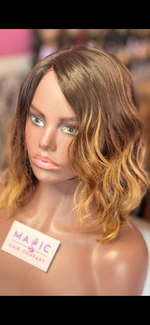 Who has Ready to Ship Wigs Online in the USA?
Who has Ready to Ship Wigs
Dripping in Black Girl Magic and all things hair, the creative team at Magic Hair Company has a gorgeous selection of ready to ship wigs.  These wigs  are of the highest quality.  Envious custom color and styled textures that keep you coming back for complimentary styling, custom color changes, or for a new fly unit.  Magic Hair company provides a tasteful selection of long lasting wigs. These ready to ship wigs are easily maintained, lasting for years to come.  If you want a full lace or front lace, glueless wig free of shedding, tangles, and matting, then  visit us online at www.magichaircompany.com
Free domestic shipping is included in every order.  You can expect your ready to ship wig purchase in a minimum of 48 hours. Enjoy expedited international shipping with a turn around time of 5-7 days.  
Magic Hair Company is a full service concierge style wig boutique located in Culver City California USA.  Glueless lace wigs are our specialty.  We offer a variety of payment options including quad pay, in store layaway, amazon pay, apple pay, and major credit cards. Shipping is included.  Our online site is set up to accept various types of currencies.  Navigating our website is easy and customer friendly.  Ask us any questions that you have. The chat feature is available and a quick response is offered.  Feel free to call us or use the chat feature online with any specific questions that you have about a ready to ship wig or your order.  Once an  order is placed, we do not delay getting your wig to your doorstep.  
In store pick up is always an option.  Meeting our clients and building a rapport is special to us.  We encourage you to schedule an appointment to shop with us if you are in the Culver City area.  Magic Hair Company is full of experienced staff, with experience spanning 10 years and counting.  Our suppliers and vendors work diligently to keep inventory available.  Magic Hair company has built the proper connections to deliver excellent service to our customers.  We are well stocked  with the best glueless front lace and full lace wigs.  Our Ready to ship wigs are in our featured wig section on our website .Subscribe to our newsletter for the latest news, sales, and promotions.  Our discounts are applied at checkout.  Ready to ship. Ready to wear.  Ready to slay.  Are you ready?
Subscribed to our youtube channel for tips and tutorials.
Stay ready and beautifully you...