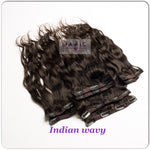 Best Clip Ins for Black Women
Best Clip Ins for Black Women
Length or Fullness? Volume or switch up? These are a few of the reasons why we might want to add extensions.  Do we always have time for a sew in, or time to find a stylist to apply tape ins when we want that extra length, fullness, or volume?  Clip ins are a convenient and temporary  alternative that can easily be added to our natural hair to switch up our look. Clip-ins add a versatile flair, and blend flawlessly with our hair when the best ones are selected.  So where do we find them? Which Clip ins are the best for black women?  Magic Hair Company has found the textures and are ready to share them with you.
Clip-ins sold at Magic Hair Company are made with the same meticulous attention to detail that we put into our glueless wigs.  The clip ins are fused skillfully onto micro wefts, which allow for a flat wear that is undeniably natural looking.  Using the softest premium strands of virgin hair, our Clip-ins can be colored and styled; curled or straightened.  Textures ranging from Kinky straight (the best for black women), kinky curly, Indian straight, Indian kinky curly, Indian wavy are available and can blend with all hair types to achieve your desired look.  For our sisters with wavy crowns we have wavy Clip-ins as well in Deep wave and body wave; both are ready to order.  Custom Clip-ins can be made simply by contacting customer service.  Lengths currently in stock are 12 in to 28 in.
Black women have many options when it comes to Clip-ins.  Our latest addition is Clip-in bangs.  Easy to wear, Clip in bangs are a very inexpensive way to take your look to haute in less than 30 seconds.  You don't have to commit to a cut which is a major added bonus. Transform your wig with this chic addition.  We match textures to compliment your wig.  The comb on the Clip in bangs is so tiny that allowing the bangs to lay flat, giving you the most natural looking outcome.  The clip in bangs can be styled with a flat iron giving it a slight bump or curl if you desire.  
Kinky straight clip-ins are very popular because they match easily for black women who wish to wear their natural, non chemically straightened tresses.  Kinky clip-ins are a great choice because you can wear them with your blown out hair and then flatiron them or curl them when you want to switch to a flat ironed natural style.  The versatility and option of daily removal of the clip-ins are two of the best perks.  Clip ins can be worn for a special occasion or daily.  Exceptional hair quality without shedding or tangling, Clip in extensions are like a power accessory.   You get so much bang for your buck: pun intended. ;)
This is a purchase that you won't regret. It is the ultimate switch up that grants you the freedom to transform your wig or natural hair in just a few seconds. That special date night look, a photoshoot when you only have minutes to be photo ready, the virtual meet up when you need to have a polished appearance, or a quick refresh, Clip ins are the ultimate addition to  have in your accessory collection.  As summer rolls in we want more time out in the sun and less time styling our hair.  Magic Hair company has the best Clip ins for black women.  We supply the most variety of textures, and a hair team ready to provide custom coloring.  Kinky straight clip ins are in stock inside  our Culver City store.  They are also available online for immediate shipping.