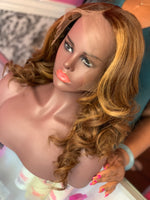 Where to Buy the Best Kinky Straight or Yaki Clip ins
Where to Buy the Best Kinky Straight or Yaki Clip ins
Human hair during the pandemic has become scarce.  Many vendors do not have the supply that they once had.  For almost a year we have watched our world  literally change before our eyes.  Several  stores have been forced to close as a result of not being able to meet supply and demand.  As our economy reshapes and refocuses, there are some companies that have sustained and are meeting the needs of customers and clients.  The demand for human hair extensions, particularly clip-ins, has continued to trend upward.  Clip ins are a quick temporary solution when many clients can't get booked for a sew- in, micro links installation, or other salon services because wefted bundles are difficult to find.
Yaki and Kinky straight clip-ins are the hottest sellers.  These coveted textures are the best choice for black women.  Kinky straight clip-ins give a relaxed appearance with a small kinky texture.  These clip-ins blend naturally with many textures of beautiful black tresses.  Our resourceful business owner has not only been able to maintain an abundant inventory of human hair, but has hand made kinky straight clip-ins and masterfully crafted each Clip-in onto a micro weft comb.    Using the finest quality of human hair, the Kinky straight and yaki clip ins are tangle free.  Soft, smooth, and natural, these clip ins may be used to create volume and thickness.  Our clip-ins can be custom colored just as all of our human hair extensions and glueless wigs.  With premium human hair your options are plentiful when it comes to our extensions.  
Currently we offer clip ins in lengths ranging from 12-28 inches.  140g bundles, comfortable to wear, easy to wash, no shedding, no tangling.  Any lengths beyond this we can customize an order for you.  Do not hesitate to call our customer service line, or text us if there is an item that is not listed on our site.  Magic Hair company desires to meet all of your hair care needs.  We encourage you to schedule your one on one shopping experience, or consultation.  Groups are welcomed.  So if you're having a girls trip plan a store visit for you and your crew.  Shop with us inside our Culver City store near Lax.  Shop our online shop where we offer free shipping. Our Kinky and Yaki Clip-ins are available for immediate shipping.
Magic Hair Company is transforming lives and bringing all the best human hair Clip-ins for black women.