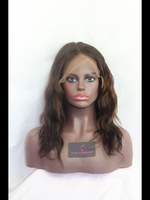 Is Magic Hair Company a Black Owned Wig Store
Is Magic Hair Company a Black Owned Wig Store 
Magic Hair Company is a Black Owned, Woman owned business located in Culver City, California.  Founded and established in 2010 by Janiece Heyward. Magic Hair Company is in a league of its own as a premiere glueless, lace wig store. With a business model founded on quality, service, and integrity, it is no surprise that Magic Hair Company has flourished into the unique wig store that it is, with a large client base from all over the globe.  Managed by the talented stylist and colorist Tatyana Flowers, customer service is exceptional, and the wigs are phenomenal.  Service truly is second to none here.
 Janiece Heyward, a native of San Diego, California moved to Los Angeles after graduating from college where she opened her luxury wig retail storefront.  The California State University at San Bernardino alumna began doing hair in college and realized during that time the need for better quality hair.  A genuine desire to address the needs of hair loss was born.  Shortly after college, Janiece relocated to the Los Angeles area where she opened Magic Hair Company in 2013 in Culver City California.  Her inspiration: the satisfied expressions on customers' faces.  The tears of  joy when hair loss clients put on their wig for the first time. "Many of my clients are suffering hair loss issues and have no idea where to start in the wig shopping process.  They tell me how the process can be very overwhelming but we make it simple for them.  Clients are not only excited to find a quality wig store, but to support a black owned business."
Heyward is inspired and motivated by the difference that she is making.  For many clients, they express how tired they have become of wearing poor quality extensions and synthetic wigs from wig companies that advertise one thing but sell another.  Magic hair Company was glad to learn the industry through and through in order to to sell natural human hair lace wigs, as well as extensions, and clip ins.  Clients now have quality wigs that can be easily maintained and worn for many years.  It doesn't just end with the amazing handcrafted wigs, Magic Hair Company has an exclusive  hair care system that can be used on all of the bundles, clip ins, and wigs that are sold. Specially formulated to preserve custom color, the products maintain moisture and keep hair healthy and nourished.  The Smooth Keratin shampoo and conditioner  leaves natural strands soft, yet fortified.  Shopping with a black owned business for hair products is such a win win  because the products are developed with the knowledge of exactly what our hair texture needs. Designed to care specifically for textured hair, it promotes growth and healing of the hair follicles.  
With over 10 years in the industry, Magic Hair company has formed business relationships with reputable vendors who supply the highest qualities of bundles in textures that vary from Brazilian straight to kinky straight, Filipino textures, and virgin silky straight. Several popular textures are kept in stock.  We keep a well balanced inventory so that we can offer our clients the choices they never knew they needed.  Whether it's a braided wig, a wavy 26 in, or a silky straight bob, Magic Hair Company will have it ready for pick up, or to ship in just a few days.  Customer centered service is at the forefront of every consultation and transaction.  Complimentary styling, coloring, cutting, and wig maintenance are customary with every purchase  for as long as you desire. 
  Magic Hair Company is here to stay.  With plans to expand in the near future by opening at least two more locations to serve future and current clients,  Janiece is full of vision for Magic Hair Company.  The Culver City store has been a physical location for 8 years.  The building in due time will also be owned by Heyward.  Black economic growth and empowerment is here, which is an invaluable vision for our youth to see. Not only is it important to have a solid business model and business plan, but it is even more vital  to preserve it by procuring all the rights to your business.  Decisions based on you as the owner will  hit differently when you don't have to negotiate terms with a landlord or property management group.  Cheers to Magic Hair Company, owner Janiece Heyward, and the Magic Company team!! Here's to decades more of changing lives one custom wig at a time.