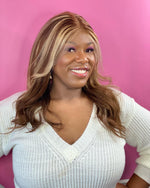 What is a T- Frontal Wig?
What is a T- Frontal Wig?
Trending topics and inquiring minds are met here.  This blog will shed some intel on what a T- Frontal wig is,  the attributes that  customers like and dislike about T Frontals, and where you can find the best.  When we hear these names a YouTube search usually follows in order to hear the reviews and watch as these wigs are applied.  Magic Hair company is ready to share their professional opinion and equip readers about this go to commodity.  Grab that cup of tea, fresh hot brew, or refreshing beverage and join the read as we dish the details on this haute wig.
A T Frontal wig is very similar to a front lace wig.  It appeared on the market due to the current lace shortage in Korea.  As implied in the name, the lace is designed in a T shape. With lace lying inside the front of the cap from ear to ear  along the hairline, then down the center creating a part, usually up to 4 inches ( some 6 inches)  it is a beginner friendly wig.  Fine, quality lace is used in T frontals, which give a gorgeous hairline and transparent part.  
Magic Hair has resourcefully used our quality lace reserves to provide long lasting T-Frontals.  Ready to wear T-frontals are available online as well as inside of our Lovely Culver City location.  We have gathered some feedback from our clients and this is what they have to say.
Clients have shared that they really love their T frontal for a few reasons.  Reason #1 The lace covers 13 inches along the hairline which allows for the unit to be worn behind the ear.  Side parts blend perfectly with your natural scalp complexion, and a Center part on a T- Frontal wig is undeniably one of the most realistic of any wig.  Reason #2 It can be worn glueless. Combs inside the cap keep the T-Frontal in place, along with the adjustable band which is standard in all of our wigs.  Reason #3  T-Frontal wigs are less expensive than a full front lace wig and still pack all the high quality Reason #4 Styling versatility; can be worn with curls or straight.  Reason #5 Slip on and Go. Convenient and user friendly.
The major drawback to the T frontal wig is that the part is fixed. You can not manipulate or change the part.  The lace is designed strategically so that the part is as natural looking as possible.  Less lace is used in T frontals, than in your standard front lace wig.  With the smaller amount of lace used, wig makers opt to use a finer, higher quality of lace. This lace of choice has smaller holes than other laces on the market making any part look absolutely impeccable.
Beginning a new year comes with us trying new things.  Trying out a new look is rejuvenating. We can not predict how lace will be manufactured in the next coming months, yet Magic Hair Company is committed to maintaining the necessary connections in order to continue to provide the hautest quality T-Frontal wigs, front lace, and full lace wigs.  May your New Year continue to unfold with you feeling your best, and showing up as your Best Self.
Stay Beautifully You…