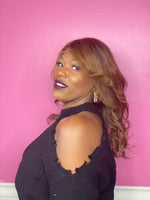 What is Centrifugal Alopecia?
Centrifugal Alopecia
By Tanula Starks
Alopecia is a broad term referring to hair loss.  There are several different types of alopecia.  In the coming months we will address a few of the many different types of alopecia in detail. This season's focus is Centrifugal alopecia, or Center Centrifugal Cicatricial alopecia (CCCA) as it is medically called, is hair loss that begins in the center of the crown of the scalp and moves outward.  Centrifugal alopecia has been found to affect Black women who are between the ages of 30-55 years.  Symptoms can range from mild to severe, or some cases are asymptomatic aside from the sudden hair loss. Symptoms, when they are present, include inflammation, burning, itching, tenderness, redness, and acne like bumps in the hair loss region. 
Causes
Recent research has identified that a gene variant is responsible for many cases of CCCA.  Autoimmune disorders, Bacterial and fungal infections, and extensive use of harsh chemical hair treatments are other factors that are linked to causing Centrifugal alopecia.   
Let's take a look at its name. Center, refers to the center part of the scalp.  Centrifugal, like the widely used instrument the centrifuge, which spins outward in a circular pattern.  Ciatrical means scarring.  This type of alopecia leads to destruction of the hair follicle, and ends in scarring that causes permanent hair loss.  This type of alopecia occurs in stages.  Five stages have been identified and studied by dermatologists.
The first 3 stages of CCCA are known as the initial phase.  Stage One is the production of toxic sebum.  During this stage the sebaceous glands begin to slow down in producing sebum.  Sebum, as we know, is our natural oils that keep our hair and skin moisturized.  When this production is slowed down, a toxic amount is released to the hair follicle.  The toxic sebum released occurs under the scalp causing inflammation.
Stage Two occurs as a direct result of the inflammation in Stage One.   Due to the inflammation under the scalp, hair growth slows down dramatically.  Hair is unable to grow out from the scalp when sebum production stops.  This chain reaction in turn signals the stem cells that are present in the hair follicles to die off.   Now enters Stage Three: The swelling and inflammation eventually kills the sebaceous glands causing the hair follicle to dry out.  Dry hair follicles start the shedding cycle and hair loss begins.  Once the sebaceous glands have been destroyed, regrowth of hair is impossible.
The late phase, as Stages 4 and 5 are referred to, continues the loss of hair strands.  In stage four the follicles begin to close up. Once fully closed the follicle then dies.  Stage five is the scarring.  Scalp scarring is the body's way of forming scar tissue over a damaged area.  Once these scars are in the place of dead follicles, no hair will grow because there is no follicle for it to grow from.
Adjusting to permanent hair loss can take time to get used to.  Confidence is often deflated.  Feelings of shame and embarrassment can take over the mindset of those battling CCCA.  Thankfully, there are safe, convenient, and affordable options to help restore confidence and style.  The team at Magic Hair Co. has experience with hair loss clients from a broad spectrum of hair loss disorders and issues.  Years of experience with making weightless, comfortable glueless lace wigs.  The finest lace is used to ensure that the scalp is not irritated.  Understanding the sensitivity of this matter, custom appointments are available in the Culver City store.  Your appointment is your time in the boutique to discuss your concerns, your needs, and your desired outcome.  Additionally, hair growth oil will be added to our exclusive product line.  Our desire is to meet the unique needs of all of our clients.  We have a knowledgeable team to help you better understand your hair loss conditions and options that you have.  Please join us weekly on our social media platforms as we discuss a range of topics.  Subscribe to our newsletter.  We look forward to meeting you and assisting with all of your glueless lace wig needs.
Stay Beautifully You....