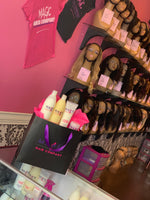 Wig Store Open Near Me Culver City
Wig stores near me open
Covid-19.  Phase One, Phase Two, Phase Three. Reopening. Opened to 20% capacity.  News headlines have bombarded the air waves of talks of the pandemic--- and understandably so.  Not only have our headlines been affected by the pandemic, a simple search for an open business can send one on a daily goose hunt.  Just the other day I searched beauty supply stores near me, and several stores came up.  Once  I arrived,  none of the nearby supply stores were open for business.  Abbreviated and temporary hours as well as closings have left us all unsure of what is actually opened.  Driving up to your favorite spot and then seeing a sign on the door informing you that  "We are temporarily Closed",  has many of us now relying solely on online ordering. 
 Maintaining our appearance is essential despite what the circumstances are.  When we look well, we feel well. When we look our best, we feel our best. For those in and around Culver City,  California,  Magic Hair Co located at 8638 Washington Blvd in Culver City  is open!   Opened to serve you Wednesdays - Saturdays, rest assured  their doors will remain open.  Preferring to give you an elite experience customized for you,  Magic Hair Company encourages appointments over walk-ins.    The friendly staff serve as your personal concierge of all things wigs so to speak.  Remember, Magic hair company is only a short drive down Washington Blvd in Culver CIty, California.  Initially opened 8 years ago,  providing the highest quality of human hair and personal consultation,  a Wig store that is here to stay.  
Inside the Culver City store, the Featured Wig section has beautiful hand tied lace wigs that are ready to buy and ready to wear.  Whether you are a beginner or experienced wig client,  Magic Hair Company has plenty to offer you. Custom wig orders are taken, and  convenient custom coloring is done in store.  Specializing in hair loss, a large majority of clientele have hair loss due to treatments, chemotherapy, or other issues like alopecia. Magic Hair company has experience spanning over 10 years, and have carefully created swiss lace wigs with these issues in mind.  Not just a wig store, but changing lives with its thoughtfully created products one wig at a time.
  Online shopping has become a necessity  for many of us.  With forced store closings, it is refreshing to still be able to go inside a store and connect with people. Especially when there are friendly, positive vibes flowing.  In store Wig specialists make the wig buying experience second to none.  Offering suggestions and tips to maintain the beautiful quality of  your lace wig, is one of the ways Magic Hair company provides the personable approach that is missing with online shopping.  
  Even for the introvert, the skilled, professional wig specialists at Magic Hair Company provide customer service in a way that meets the needs of all personality types. Can you think of a time that you met someone and immediately felt at home in their presence?  Welcomed. Valued.  Respected.
Specialists taking the time and initiative to understand what you are looking for is what clients receive at  Magic Hair company. Whether you are  giving your  natural tresses a break, wanting to switch up your look,  or to discreetly hide hair loss, Magic Hair Company has you covered.   Superb customer service, personal attention, and recommendations on which styles and products will help achieve your desired outcome are a few  benefits of coming into the store.  The convenience of having this wig store near you is such a wonderful perk. Being able to get your questions answered, concerns addressed by friendly, knowledgeable staff is just unmatched.  This is truly a  One stop shop for your custom wig purchase, installation, and  coloring.
Shopping online leaves  you with an impersonal experience.  Many sites will have a FAQ section.  You may get to chat with someone briefly about your order, if that. The greatest drawbacks are not being able to touch or see exactly what you are purchasing until it arrives.  Suffice it to say, a one on one consultation, and in store viewing of the hair quality, texture, and color of the wig  far outweigh online shopping.  
Providing an authentic experience, Magic Hair co is a wig store that believes in building relationships with its clientele.  For instance, included in your purchase Magic hair company extends to you personal styling, curling, bangs, and  layers.  You may also schedule an appointment for wig installations.  Custom coloring is also available. 
Offering a variety of online options as well. Free domestic shipping and in store pickup are also available during your online checkout should you choose to visit magichaircompany.com.  Contactless delivery is easy to arrange with a quick phone call. To accommodate the sensitive needs of many clients during this time, curbside service is also available.
Magic Hair Company is open Wednesday- Saturday
Appointment Preferred
Txt appointment to confirm availability (424)258-0657
Subscribe to the Newsletter. Here you will find giveaways, latest sales, and promotions.  
Checkout our Friday 3pm live wig show on IG and Facebook
Magic Hair Co. is ready and waiting to serve you--
Be well... and of course, Remain Beautifully You