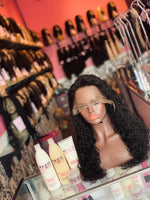 Best USA Wig Stores Online
Living in a time where everything is readily available at the stroke of our fingers definitely has its advantages.  We can shop from the comfort of our home, from our smartphones while on the go, and pretty much any time of day.  The ease of purchasing online and various shipping options from large sites like Amazon, has brought much simplicity to shopping.  Receiving a delivery on a Sunday, makes Amazon a top choice for thousands of shoppers.
Online shopping comes with a large degree of uncertainty for many.  Especially for certain items.  Wigs, for one, are one of those items that have pros and cons to purchasing online.  Finding a wig store  that is reliable is important. One that has trustworthy wig specialists on staff who produce what they advertise.  Delayed shipping, no refund policy, not being able to tangibly get a feel for the product before purchase, inaccurate measurements,and difficulty contacting customer service with questions that you might have are the immediate cons that come to mind.  Companies who have a physical location as well as  online purchasing available tend to be the more reliable choice. Wig stores who invest heavily in building their website and maintaining a storefront are passionate about what they do like Magic Hair Company.  These are the companies to consider when buying online.
Selecting a wig online versus in store
When buying a wig, the proper fit plays a large role in how well the wig will lay. You want to get measured and receive guidance from a wig specialist.  Choosing the correct size, color, and type of wig is something a trusted wig specialist can easily help you with.  Measuring tools used online may or may not be accurate.  Getting measured by a professional is recommended if you do choose to purchase online.  Knowing your measurements before you buy will alleviate the hassles of returning a wig unit that poorly fits.  If you take your own measurements, then be sure to measure not just the circumference, but from front to nape, ear to ear, and along the nape of your neck.  
How to take wig measurements?
Ear to ear:  measure from hairline directly above the left ear across the top of your head to the hairline directly above the right ear.
Nape of neck:  measure the width of your hairline across the nape of the neck.
Front to nape:  Measure from hairline at the center of the forehead straight back over the crown to center of hairline at nape of neck.
When choosing to visit a wig store, the wig specialist will assist you with measuring and selecting the proper size wig cap. Visiting a wig boutique will alleviate most of the work for you.  The biggest advantage of shopping inside the store is being able to build a rapport with the highly skilled wig specialists.  They will guide you when it comes to the various types of lace, human hair textures, colors of lace ( or even tint the lace to match your scalp).  They are also available to advise you of products that will enhance and extend the shelf life of the wig.  Once a rapport has been established, subscribing to the stores' newsletter is a great way to stay in the loop on deals, promotions, and giveaways. Purchasing online from that store now won't be met with any apprehension. That's the beauty of meeting your wig specialist, you get to build a trusting relationship.  Buying from a reliable, trusted source makes all the difference.  Scams are in abundance.  Customer service online isn't always the best. It is rare that you will receive any follow up.
Buyer's Remorse
I think we have all experienced this at some point.  We've been excited to buy something that we've been eyeing for some time.  We finally get it and it doesn't meet our expectations. Or, we realize that we overpaid. When buying online it's difficult and almost impossible  to gauge the quality of the hair. False advertisement does happen. Remy, Brazilian, Peruvian, Human Hair they all say, but then it's blended and  NOT 100% once it arrives to you.  When it comes to a wig  that you plan to keep for a few years, you want to know exactly what you're getting. More importantly, you want to get exactly what you paid for.  Human hair full lace wigs will not disappoint. They are high quality and last for years.  There are no surprises if you are buying in store. You get to shake, feel, and manipulate the samples and ready to buy wigs. Buying in store ultimately saves time and money. 
Payment options and shipping
A Beautiful array of wigs, closures, and the complimentary products can get us quickly clicking and adding to our cart. We get to checkout and then, in bold there's: shipping. Oftentimes the shipping fees are more than what we want to pay. Not to mention the estimated delivery window is longer than we'd like.  Commonly,  you pay upfront for your wig online, but the seller doesn't take any responsibility for shipping delays once you pay for shipping. Online wig companies encourage you to pay extra for "buyer protection" which will allow you to be refunded.  However,  you must file a claim in order to receive any refund.  This process may take another few weeks.
As stated previously, you save time and money with an in store purchase.  No shipping costs, No lengthy wait time.  You will also have more payment options in store versus online.  Quad pay and in store financing are available to clients who choose to shop in store.  
Magic Hair Company is one of the best online wig stores in the USA. They have a featured wig section that contains 100s of ready to ship wigs. They have lots of videos and pictures showcasing the glueless lace wig details. They can communicate with you by phone, video, or txt. They specialize in wig coloring and have been an industry leader for 10+ years. The owner Janiece Russell is leads a highly knowledgeable and professional team. Not only can you purchase their wigs online but you can also go into there Culver City Ca wig store.
 Online wig stores are for convenience. There is risk involved with purchasing. Not an entirely negative experience. It is a less personal purchase and experience. Orders that are fulfilled in a timely manner, with free shipping, and refundable would definitely be the way to go with a trusted online seller.  Shopping online can come with frustration if you value quality and tier 1 customer service.  High end wigs are a luxurious treat for many, and a necessity for many clients with special hair needs.  If you are going to treat yourself to a quality wig, go all out and schedule a one on one appointment with a wig store equipped and designed to be a one stop shop. Relax after the appointment is booked. Let your eyes rest and minimize screen time in this highly virtual world.  The professional team will take it from there once you arrive. Ready to wear wigs in a variety of lengths, styles, colors, and glueless lace options await you.  Superb customer service sets the tone for your in store shopping experience. Knowledgeable wig specialists will be available during and after your purchase.  You can schedule as many one on one visits as you like. Styling and install appointments can be made after your custom wig purchase. In addition to   offering the payment  flexibility that you won't find online, in store purchasing has less cons than buying from an online wig store. Savvy shoppers will choose a reliable wig store that has both a physical store and online options.  These wig stores invest in their company and stand behind their services, and custom wigs.  Therefore the client can feel great about their purchase. No remorse. No hesitation. No risks.  No money loss. = ~Satisfaction~
Easy Maintenance Curly Wig Vacation Hair 
Vacation is a time when we let ourselves slip into carefree mode.  Fun is on deck and relaxation is in the queue.  It is the ideal time to wear an easy maintenance style.  There is nothing like being camera ready in minutes.  Not having to pack several styling products or styling tools is a definite plus when on vacation.  Easy maintenance curly wig vacation hair is a superb choice for a spring or summer getaway.  Really anytime of the year, curly hair is in style and can be easily worn.
Curly wigs are chic and fun.  An added benefit is that they can be worn wet or dry.  There is little to almost no maintenance needed.  Curly wigs are a shake and fluff kinda do.  Spraying the curl hydrator and definer onto a curly wig is all that is needed to style. You have the option of saturating the curly wig, brushing the product through to wear a wet look.  On vacation, this is an ideal choice for a beach vacay, yacht escape, or island vibe.  Wet hair don't care anyone?  YaSSSS.  
Option two gives more volume  and a sexy polished look.  At night you'll hydrate your curly wig working the curly hydrator and definer through the tresses.  Allow it to dry overnight.  In the morning finger styling is all it takes; fluffing to create body and volume.  Shake, fluff, and viola it is ready to wear.  Easy maintenance curly wigs are such a great choice.
The custom curly wigs at Magic Hair Company are the creme de la creme.  High quality hair that will not shed, tangle, nor matte.  Our easy maintenance curly wigs last you for several vacations.  The exclusive hair care line gives you a no fuss routine that reaps benefits for your natural hair and human hair wigs.  The quality of tresses will be preserved using our keratin shampoo and conditioner.  Your custom color won't fade, but will remain vibrant and soft.  Treat yourself to a luxurious easy maintenance vacation wig from MHC.  Come visit us at our Culver City, CA store.  Appointments are available and preferred for one on one consultation and shopping.  Your experience does not have to end at checkout.  Custom color specialists are available in store. You can meet with our colorist for this amazing service.  Additional services such as cutting layers, inches, bangs and styling are also available to you..  As you plan your vacay, please help yourself to our featured wig section.  We are a few clicks away, ready to serve you.
Happy Spring Everyone. 
Stay Beautifully You...
Shop local.
And as always, Stay beautifully you